23 April 2014
Cube Lube, 1980s
22 April 2014
by noreply@blogger.com (Martin Raynsford) at 22 April 2014 08:57 PM
21 April 2014
Edinburgh, It's a trek to get to for us in Nottingham, but I decided this year to attend the Edinburgh Mini Maker Faire at Summerhall, just below Arthur's Seat. I didn't really realise before I arrived to set up that the Edinburgh HackLab is right there in the same building. Summerhall is a weird and very cool place. It used to be a veterinary college called the Royal Dick but the Dick moved away in 2011 and the local authority have turned the whole college into artists units and that sort of thing.
During setup I found that I needed a 13a kettle lead and a 9v battery connector. I was pretty sure they'd have them over at the lab and having already had a tweeted invite I headed right over. I was greated by Peter and Grace who were working away on projects for the Faire (an Arduino sombrero and a Rubbin's tube waterfall) Grace in particular seemed rather keen to get on with her project as it was not nearly finished and looked to have several more hours work on her project which included flexible 3D prints, lots of laser cut parts and water. They'd been apparently running their big laser cutter night and day and had resorted to putting an ice filled Club Mate bottle in the coolant to help drop the temperature (NOT RECOMMENDED).
The space was roughly divided into 3 (possibly 4) rooms, a main "lab" like room with electronics, the kettle, fridge and quite cool shop. All the main projects and efforts seemed to be focused on this room. Storage space in this area whilst plentiful (looked like an old biology with the white Trespa type worktops and draws (very expensive stuff) there was stuff everywhere and every draw I saw was stuffed full. Every chair and work surface had gear on it and projects in progress. This might have been because of the Faire the next day perhaps. The "dirty" workshop room was quite small, no bigger than a domestic bathroom really. It had some cool tools though including pillar drill, CNC Mill (work in progress) and a larger than A3 laser cutter. Which is there pride and joy. Apart from that the workshop was really very messy indeed. I suspect they had a good tidy up before letting the public in the following day, as I understand it the HackLab was to be open to the public as part of the Faire. The third room was a sort of store room with abandoned projects, materials, donations and members boxes. There was a complicated looking QR code sticker system setup by the door but I didn't ask about it or read the instructions.
They had made some really awesome infrastructure projects. They had a touch panel for addressable lighting, heating and fan control. They have used the sites RFID system to setup door access to the lab which had a fancy conductive door handle ensuring that a keyless person can always get out but the keyless can't get in if you are conductive and keyless you can open the door from the inside but not gain entry from the outside. Very cool. They also had an awesome looking Mindstorms, bluetooth controlled IP camera on a monorail going about on the ceiling. They had also hacked an tube hours counter for their laser cutter which looked pretty cool.  
A member told me that they have about 40 paying members in total and the main challenge they face is the price of rented property in central Edinburgh (which is lovely by-the-way), he said they used to have a £40 a month fee but had been able to make that a lot more flexible recently. Open nights are twice a week on Tuesday and Thursdays from 7pm and I am sure they are looking for yet more new members to get involved. So if you are local but haven't been already pop down, lots of people were interested in learning about laser cutting at the Mini Maker Faire and didn't realise that a laser cutter was available right there at the Hacklab so I encouraged them to visit.
I was pleased to be able to stamp my Hacker Passport. I usually forget to take it when I visit or I forget to ask if I do. 
Filed under:
Hackspace visit
,
Maker Faire
Tagged:
Edinburgh
,
Edinburgh Mini Maker Faire
,
Hackerspace
,
Hackerspaces
,
Hackspace Foundation
,
Hackspace visit
,
laser cutter
,
laser cutters
,
Mini Maker Faire
,
MMF
,
Scotland
by chickengrylls at 21 April 2014 12:48 PM
20 April 2014
If you read this for electronics stuff, prepare for disappointment. Because this is a sleep-deprivation induced rant about a video game.
SimCity: What the hell happened to you?
Every now and then I feel like going back and playing SimCity. When I was the right age to really appreciate the game, SimCity 3000 was the latest one at the time. It had pleasant, pleasing graphics and soundtrack, lots of scope and didn't take itself too seriously. The cities you built could grow to enormous size, enough to push the 900MHz Athlon I had at the time to its limits when drawing the whole thing.
Crucially, it wasn't SimCity 4. I got it on Steam a while back. Argh, that was a mistake.
When I play SimCity, I want to build and run a city. I don't want to drive around it (that's what GTA and Driver are for). I don't want to care about individual Sims in it (more than any others).
What I really want is a more realistic "local government simulator". For me the best bit about SimCity, apart from the long-term building, was choosing all the progressive, green, lefty policies and having them work.
What I want from SimCity
Features I would love to see in a better SimCity would be:
More realistic building timescales
When you zone land for buildings in the game, it takes time for buildings to appear. If the economic conditions aren't right, they may not appear at ask. I want the same thing for other building. You want three miles of road? 8 months, and the cost is an estimate. You want a new water pipe under that industrial zone? That's lots of digging. One year minimum, and the economic output of that area will fall. Oh, you need that pipeline now? Too bad, should have planned earlier. You've changed your mind about the construction of that new motorway? It's going to cost time and money to remove what we've started.
Realistic limits to what you can build
I was always a bit dubious about building my own power plants. Isn't that a national government/utilities thing? Since when does a town with a population of 5000 just decide to build a coal fired power station?
Towns aren't (typically, at least)  owners and operators of their own utilities. However, the local government gets to decide who gets to build what, and where. I want the Sim equivalent of EDF asking to build a new nuclear plant, and the likely impacts presented. I want to be able to refuse, and then I want the chance that the national government forces me to have it anyway and my citizens and I have to cope with that.
The feeling that I'm part of a bigger country
On the subject of national government, I want much more interaction with them. A huge part of local government is balancing the needs of your citizens with the wider national (and indeed global) interest. For instance, the government is going to put a high speed railway through your countryside. Do you support it or not? What do your citizens think? Will it stop in your city, and if it does, will it be a boon or a drain?
On the subject of the countryside, I want something akin to greenbelt laws. Why do my Sims not kick up a fuss when I fill in that lake or raise a forest to the ground? Maybe I should only be allowed to zone a new commercial block if I agree to build a load of new parks – with penalties if I don't. Maybe the government will decide to stop me zoning altogether in some places. Who knows, but I do know that local authorities can't just decide that a bit of land will be for houses now – as the regular e-mails from my MP will attest.
The feeling that I'm part of a wider economy
You already get a fair few economic choices in the game, but it's all fairly local. I want to see the impact of the wider economy. You got to trade water, power, waste with the surrounding towns and cities, but there was never a sense of a fully developed economy. I want the town up the road to get a new factory, pulling activity away from my town and causing massive traffic problems. I want my local economy to be affected by the national one. Employment and investment as part of a national and global whole.
In short…
I want the plans I make to be forced to take time and the wider world into account, not just – as was most often the case in SimCity – money.
That sounds simple enough. Over to you Maxis.
by fowkc at 20 April 2014 07:07 PM
There has been a spate of pedal power projects in the re-innovation workshop recently.
This post shows one recently built for Nottinghamshire Healthcare. The pedal generator was designed as a challenge with a twenty second test to see the amount of energy the cyclist can generate. It also needed to be relatively potable (to fit within the boot of a car).
The systems consist of:
a shunt regulator (rated at 400W) to dump any excess power
a LED bar graph display as a visual read out of power generated
an LED display which shows the actual power output in Watts
a 20 second test display with an output in Watt-seconds
by matt@re-innovation.co.uk (Matthew Little) at 20 April 2014 06:30 PM
This is an all-in-one six digit 7-segment led display unit with an ATmega328 programmed with the Arduino bootloader. The displays can be used to count, time things or display numbers. The display is bright enough to use inside or out. The display is controlled using an SPI, which uses four digital pins from the microcontroller, leaving all the others free. Multiple displays can be connected together using the SPI bus.
This kit is available for £25 (inc P&P within the UK)
by matt@re-innovation.co.uk (Matthew Little) at 20 April 2014 06:16 PM
18 April 2014
by noreply@blogger.com (Martin Raynsford) at 18 April 2014 03:21 PM
17 April 2014
Back in July 2013, someone in the office mentioned the beautiful iconic 80′s disaster that is the Sinclair C5.  Inevitably someone asked what they're worth now, and apart from the fact they cost £400 new, was dropped to £199 shortly after and then the price plummeted like a stone, I had no idea.  So I turned to the reliable font of knowledge in these things; eBay.  Generally, they were going for more than I expected, then I came across this sorry little thing
With 4 days to go, the price seemed far too low, despite it being described as "Spares or repair", so, just for curiosity sake, I decided to watch the auction.  With 15 minutes to go the price was still too low, so I bid a stupidly low price… and was the highest bidder!  But with 2 minutes to go, I got outbid!  Well, the eBay red mist had descended, and I wasn't having any of that, so I bid again… and won it for £34.56!  What the hell was I going to do now?
It was located just the other side of Birmingham, so the following weekend I drove just over an hour to pick it up.  Due to the large LPG tank in the car, I wasn't actually sure I could even get it in, but, with clever jiggling it will go in upside down with the saddle over the tank.  Getting it home revealed just what I'd let myself in for;
It was just a chassis, a body shell and just a few other trivial parts.  And all of those were in pretty poor condition.  No wheels.  No motor.  No electrics.  No handlebars.  No pedals.  No axle.  No axle mountings.
So, first job was to strip it all down.  Luckily, due to the lack of parts, this didn't take long!
Although there was some surface rust, the chassis wasn't actually that bad, so I cleaned that up, sanding all the rust back to bare metal and took it off to the spray booth at Nottingham Hackspace
With a bit of scrubbing with Cillit Bang, the body didn't actually come up too bad.  It looks like it had been sprayed red at some point in its life though, and a couple of big scratches needed some sanding to get rid of.
Meanwhile, I'd started to source as many other parts as I could from eBay or the C5 Owners Club.  £23 for a set of wheels, plus £51.50 for a chassis that included almost all the other bits I needed to get a pedal powered C5.  Including paint, inner tubes, fuel and other odd bits I was now looking at over £150!
With all the bits stripped off the 2nd chassis and cleaned up I was able to start building my one up
My biggest concern was the rear axle.  Luckily all the bits were there to mount it securely, and the brake pads even had a fair bit of life left in them.  (Note to the observant – yes, rear brakes are only on the right hand side.  The left hand side is the driven wheel. Great idea Clive!)
Gradually it started to take shape!
Although I had the original front brake (2 of them in fact due to the 2nd chassis purchase), this Diacomp MX bike from an old BMX looks much more up to the job!
I didn't have a chain tensioner either.  The original ones are notoriously dodgy anyway, and a decent modern replacement would add an extra 15% to my current build costs.  Instead, I opted for a derailleur gear bolted to a shelf bracket
Once the body was back on it was actually possible to pedal the thing around!
Ok, so the handlebar grips aren't original.  Neither are the brake levers.  Or the pedals.  But it does, however, allow it to be ridden/driven/piloted around!
My goal for stage 1 was to turn this scrap heap junker in to something that could be used as a vehicle.  It doesn't have all the cosmetic fancy pants things like decals, a boot, lights or wheel trims.  And it doesn't even have the basic stuff that made the C5 famous like a battery, motor, or indeed electrics of any kind at all.  And it may have been put together on a tight budget that actually far exceeded the value of the thing, but it achieved its objective!
it is 6.5 miles from Nottingham Hackspace to home, and at the start of April, I set off from there and rode back* home.  Stage 1 complete.  Now for stage 2…
*With the safety net of James and Michelle in a van, I arranged to drive halfway back and be picked up.  But got there, felt good so carried on a bit more.  And again.  Until I had actually completed the distance, but ended up further from home than planned!
by Spencer at 17 April 2014 09:43 PM
16 April 2014
Eldritch
posted up the photos of the finished sword and it looks absolutely amazing. I'm definitely pleased to have been a
part of this build
.
by noreply@blogger.com (Martin Raynsford) at 16 April 2014 06:25 PM
14 April 2014
by noreply@blogger.com (Martin Raynsford) at 14 April 2014 11:10 PM
by noreply@blogger.com (Martin Raynsford) at 14 April 2014 10:48 PM
I got the opportunity to accompany Martin Raynsford to Makespace in Cambridge for their weekly Sunday morning "Family Makers" session where he was running a useless machine workshop and giving usa chance to show off our Blacknose A3 Laser Cutter good practice for Edinburgh Mini Maker Faire this weekend and the UK Maker Faire the weekend after.
Makespace is in some buildings which are part of the University and it's just a couple of minutes walk from Kings College and the centre of the city. One of the founders, Steve, gave me a tour. He explained that Makespace could remain in the present location for another two years but after that they'd need to move out. I was told by a member (though it might have been speculation) that the current home for Makespace was very valuable development land. It being a non-listed building amongst some of the best architecture in Europe (in my opinion) it's a prime spot to pop an office or a mall or even a more useful building for the university.
The setup is very clean and well organised compared to most Hackspaces, but then they purposely called themselves Makespace and certainly the people I spoke to had a "dirty" and "dark" perception of what a "Hackspace" is. Having said that they still have some similar problems to other Hackspaces with stuff all over the place and members needing project storage and wanting to fill the space with, well… useful things (crap).
Unlike most Hackerspaces I've visited they have a lot of very high end equipment and have had corporate sponsorship and donations to get them off the starting line. That's not to diminish from the contributions of the 50 or so founders shown on the logo above. The company sponsors are also logo'd and linked at the top of their website. I was told they currently have about 200 members all paying around £40 month for 24 hours access and as usual it's about a 20/80 % split of highly active and less active members. Also they don't tend to have pledge drives for equipment, instead utilising their considerable monthly income (£8000 a month if their membership fee and number of members is an indicator) into getting good tools and keeping them running. Some of the founders I spoke to didn't know who how much the rent was but described it as "peppercorn" which implied a token small rent. They do pay for the services they receive which I assume to be power, heating and internet as well as web domains and insurance and the like.
It being Cambridge I sort of assumed that there would be a load of Cambridge University undergraduates. No, said a member, students can't afford £40 a month. Is £40 a month expensive? I can't decided. I think access to all the good tools they have in the clean and (relatively) well organised environment of Makespace in central Cambridge IS worth that yes. "It's the same as a high end phone contract." said one member who preferred to avoid the "Gym Membership" analogy.
They have a good setup including a main working room with Makerbot Replicator 2, A1 sized CO2 laser cutter, small Rolland CNC mill, vacuum former, glass working kiln and electronics bench. Next door they have a dirty workshop with large CNC router, 3 axis mill, wood lathe, pillar drill, band saw, sanders, chop saw and many others smaller hand tools. They have a sizable "MEAT ROOM" or class room which is currently under debate to be changed though it seems well appointed for teaching. Additionally they had a quite big locked room for valuables and servers and the like. My understanding is that members don't have access to this room. They had a room called "Cake Space" which was their kitchen and tuck-shop and another room they called the "cafe". The natural light in the space is superb as they have a traditional saw tooth type factory roof.
I was made very welcome and am generally impressed by Cambridge Makespace. To me looking in from the outside, Makespace has always felt like a much more corporately minded "go-it-alone" type of Hackerspace (if you could describe it as such). When being told by members that the "leaders" are "very busy software types" with little time to interact with other Hackerspaces and the foundation in general and also seeing the locked room for the "valuables" and no-one seemingly knowing how much the rent is I had the fleeting idea that the "members" are sort of "other" from the organisers and maybe there isn't the same level of buy in. Having said that it does make for a better run and seemingly more organised space with the right tools in the right places at the right time and not everything done on pennies from twine and sticky tape. I think the way that Makespace was resourced, founded and funded presents some very interesting learning opportunities for maker and hacker spaces (whatever you want to call them) to learn how to scale into something realistic safe and sustainable. I'd very much like to see some of the leaders/founders interacting more with the UK Hackspace Foundation rather than distancing themselves from it. I am certain we can learn a lot together. One thing that sits uncomfortably with me is that they used the name "Makespace" as a one off only us name. That is to say they aren't "Cambridge" Makespace, one of many Makespaces but just "Makespace" the one the only. London Hackspace isn't just "Hackspace" one of one… it is London Hackspace one of many.. do what we do they say. Makespace.org points to Makespace, Hackspace.org.uk points at the Foundation page of all space (including Makespace).
Another thought occurred to me, at 200+ members and with probably 5000 square feet of space available Makespace is probably the 2nd largest UK Hackspace after London (800+ members about 6000 square feet) though because they don't really interact with the UK Hackspace Foundation or other Hackspaces as such they have never really been on my radar. Suddenly one day they appeared but didn't brag in my face about it. I suppose it doesn't matter.
Most amazingly for me was the "lost property shelf" in most hackspaces (or makerspaces) stuff is pervasive and everywhere. Put it this way, put a thing down on a table no one will move it unless they know that it shouldn't be there. I felt that Cambridge Makespace had the advantage of keeping itself above mess rather than trying to pull itself out of it like most hackspaces. Their members box system is a hackspace organisers dream. All the boxes are strong, good quality, east to see and not over filled. Furthermore hardly anything shoved beside and on top of them. Use of brought in BIG DUG racking helps considerably.
My favorite room in the space was the "TROPHY ROOM" or store room. A room dedicated to junk and donations. An Aladdin's cave that contains the stuff both being worked on and up for grabs. With good quality racking it was quite good fun to go in a poke about. An Aladdin's cave of stuff is something I've wanted at Nottingham Hackspace for a couple of years now. I want to contain the junk in a tidy away area specifically for stuff, not stop it. Right now at Nottingham we've stuff all over the place, where ever you lay your stuff, that's it's home. It's a tough challenge for a community space to face up to.
They are doing other things very well too. They have a machine at the entrance that you can scan your RFID tag onto and it will print you a NAME STICKER so everyone can see you name. It's a fun way to get people to actually share their names. I have a terrible memory and at Nottingham I know so many faces but forget the names… it might stop people calling me DOM (which I really don't like) if my name badge said DOMINIC and we had a rule to use the name on the badge.
Makespace has a bi-weekly open "come and see the space" sessions you can book into here on their meetup pages. These open house events take place on Tuesdays. They also have other open house events like RPi programming you can catch it all from their meetup page or their website.
In conclusion I was impressed if not a little sad that this excellent community is a bit insular. It takes two to stop somewhere being insular though and I'd really like to learn a lot more about the model that Makespace has forged. I was made very welcome indeed and saw glimpses of the same problems that Hackspaces face (bikeshedding, doing everything on the cheap, wanting to hack every solution, the worry about webcams and anonymous identity stuff etc etc). I'd be very interested to hear comments or questions or corrections in the section below.
Filed under:
Hackspace visit
Tagged:
Cambridge
,
Cambridge Makespace
,
Hackerspace
,
Hackerspaces
,
Hackspace Foundation
,
Hackspace visit
,
Makespace
,
UK Hackspace Foundation
by chickengrylls at 14 April 2014 12:25 PM
13 April 2014
NEXT HACKSPACE PROJECT
12 April 2014
Wool Knit Bathing Suit, ca. 1940

via The Met
So scratchy. So saggy. So weighs you down and drowns you.
But those little eyes on all the fish!
11 April 2014
by noreply@blogger.com (Martin Raynsford) at 11 April 2014 11:31 PM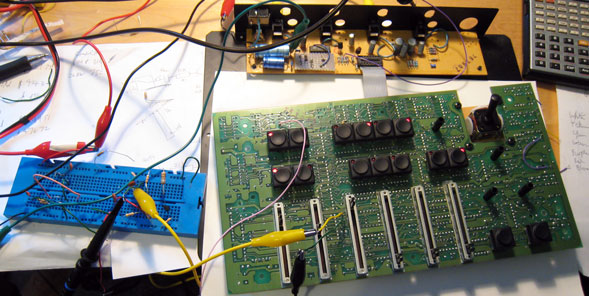 I get asked quite often about how I approach video bending projects, so here are my thoughts. Because I am trained as an electronic engineer my approach is theoretically and technically driven as opposed to the experimental approaches that other people may use. I find this works particularly well with video bending because you need to retain the structure of the video signal if it is going to display properly.
When starting out on a project the first thing I do is to find all the documentation I can about the unit. If I can obtain schematics or service manuals then these can be a great help. For an interesting unit I am happy to buy service manuals if they are not available for free because it saves so much time and hassle. So far it has always been a good investment. If I do get hold of good documentation then examining the circuit will often give me ideas about how things might be modified. Basically I am looking for places where key signals, like the separate RGB colour levels, can be intercepted and modified. There is more discussion on that below.
If I don't have a good manual then I will look at the circuit on the board and try and reverse engineer the key parts. This normally starts with identifying the main chips on the board and through the datasheets and knowledge of the normal operation working out how the signal flows through the circuit. Once you get an idea of the signal flow then you can start to focus in on areas that seem to offer the possibility of modification.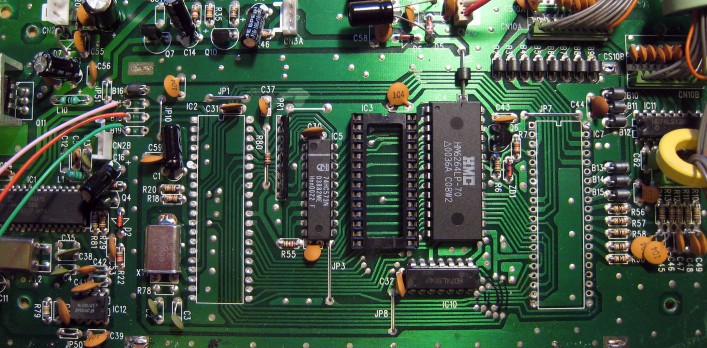 Bending Opportunities
Finding bending opportunities is partly science, partly art and partly gut instinct. You want to find a signal or processing function in the circuit that is amenable to modification. A composite video signal consists of the video information (luminance and colour) combined with synchronization information (horizontal and vertical). In most cases you don't want to over-distort the synchronization information because this will prevent the signal displaying. Finding opportunities to just modify the video information is important.
For the video signals then a lot of units will separate video and sync information internally. If you can pull out pure luminance, hue or RGB signals from the circuit then you can make these available to process and distort through other circuits without damaging the synchronization. Just additively mixing in audio or other video signals on top of a video signal can be interesting. Some, cheaper, circuits don't separate the video and sync information and it can be hard to bend the signals for these.
Many video mixers also contain various gate signals that control how different parts of the same picture are processed in different ways. These are used to implement things like wipes and colour fills. Pulling out these gate signals or being able to inject new gate signals can create fantastic effects. Try xoring two gates from different mixers together and then injecting the result back in to the original circuit.
As well as going after the signals you can go after the processing functions. A simple trick is to modify the circuit to remove the limits on how strongly a processing function affects a signal. For example if you have a circuit that controls the colour saturation then it might be possible to boost the gain of this beyond what is intended and create super-saturated and unstable colours in the output.
Another thing I like to do is to see if it is possible to replace manual controls with control voltages. In this way you can sweep control values rapidly, even within one frame of a video, under the control of an external circuit. A lot of effects just come from feeding an audio signal in to a control voltage that varies some aspect of a video signal.
Intellectually I find it more interesting and more satisfying to work with primarily analogue video equipment, but I guess I should add a word on digital equipment. In circuit bending on digital circuits a common technique is just to ground certain address or data signals so that the circuit starts to misbehave. The results are unpredictable, but fun. This approach carries quite a high risk that the outputs of the digital circuits will be damaged as they try and drive a grounded signal "high". I suspect this is the cause of a lot of equipment damage caused by circuit bending attempts. One reason you can get away with it on some older equipment is that they used NMOS logic. A feature of NMOS is that it has no active pull-up device (just a resistor) so grounding the output is acceptable.
Equipment Safety
People often ask me if I have ever blown anything up while circuit bending. So far the answer is "no". I think this is largely because I am normally working with a reasonably good idea of how the circuit is meant to operate and I understand what common electronic circuits will and won't tolerate being done to them. However, circuit bending is a full contact sport. If you can't tolerate the risk of destroying what you are trying to bend then you shouldn't have opened the case.
Personal Safety
Personal safety is your responsibility. My very strong preference is to only work on equipment that is powered from a low voltage source or, if it has an internal power supply, where the high voltage elements are fully protected against accidental contact. I recommend you don't work on designs where high voltage components might be touched.
Older equipment will contain lead, and possibly other unpleasant chemicals. Always take appropriate precautions including through hand-washing before handling food.
I don't know how much it is possible to teach circuit bending. Particularly with video it is a black-art and relies heavily on experience and luck. Hopefully these hints will help those that want to give it a go though. With a lot of old analogue equipment being sold cheap just get something and start exploring.
by Iain at 11 April 2014 02:01 PM
I was online browsing dulcimer stuff and I discovered the "courting dulcimer" which has two necks and is meant to be played by two people facing each other…

…making it the cutest musical instrument in the world.
10 April 2014
£2.79 will buy you an LED light bulb which operates directly from 240V
. These corn cob bulbs are a collection of LED panels, each panel is 16 LED's wired in series. There are 64 LED's wired in series (4 panels) which provides sufficient voltage drop to connect it to the mains. There are two sets of panels in the light bulb wired in opposite directions so the LED's actually provide their own rectification of the AC input.
The bulb was pulled apart and the wires all extended to allow the panels to be placed in the corners of the lid.
Laser cut mounts were made to hold each panel at a slight angle in the corners of the lid. The mounts affix to the lid with a single nut. After my experiments gluing and taping things inside the lid all failed, bolting things in using the existing fixings is always preferable.
The panels were split into the corners of the lid and wired up to the existing electrical point. The lights always come one while the laser is turned on but as the LED only takes 7W it's not taking a vast amount of power.
by noreply@blogger.com (Martin Raynsford) at 10 April 2014 07:32 AM
I had a sudden need for a logic probe. Here's how to build one in 15 minutes.
Get an Element 14 pen. IT MUST BE FROM ELEMENT 14. No other normal biro will work.
Cut off the clicker end with a junior hacksaw and discard the useless innards.
Drill a 2mm hole in the side. Stick a black wire through and terminate with a crocodile clip.
Cut a single header off a header strip. Solder on a red wire.
Pick a soldering iron you don't particularly care for. Melt the plastic of the header until it fits in the end of the pen.
Solder an LED and appropriately valued resistor onto the red and black wires. Use heatshrink to cover up your soldering crimes.
Use polymorph to secure the LED into the end of the pen.
Hey presto! Cheap-and-dirty logic probe.
by fowkc at 10 April 2014 12:04 AM
07 April 2014
Since I've been playing with foam again I took the opportunity to conduct some tests on thicker sections of foam.
The 12mm foam cut in a single pass, 25m/s and 30% power so super fast. The trouble is that the middle of the material gets really hot and starts to melt, drawing back from the beam, this causes the curve you can see on the edge of the cut. The 30mm foam was cut in multiple passes, 25mm/s and 15% power. As you can see the laser caused ripples down the edge of the material for each pass. Both of these are pretty much unacceptable for the majority of things.
The second problem is caused by the way the laser works. As the beam passes through the final lens it takes on an hour glass shape. The neck of this hourglass should be focused onto the surface of the material. As the beam passes through the material it gets wider again at the bottom of the cut the beam is noticeably wider than the top.
These two issues can actually be used to counteract each other. If you aim the focal depth at the middle of the material the narrowest point of the cut is the point where the material shrinks away the most. It doesn't work for much thickness but it does help up to about 10mm thick.
by noreply@blogger.com (Martin Raynsford) at 07 April 2014 09:33 PM
etsy:
What's missing from this is the fact that Zuzia Zuber has set up her laser cutter on a lathe so that it can do these sweet perfect rolling pins perfectly.
And holy god, would I love something like that.
06 April 2014
by noreply@blogger.com (Martin Raynsford) at 06 April 2014 10:47 PM
05 April 2014
I have plans for this blue laser and I need to start by removing the things that I don't want in the machine any more.
The laser power supply - this was broken when I received it, burnt out by the previous owner.
The control system - goodbye moshi draw sadly this means taking out the stepper drivers too.
The light bulb - honestly I don't know why this bugs me so much, it's just a silly thing to have there.
The extraction fan - it's weak, ineffectual and it gets in the way of the laser cover.
The clampy thing - also ineffectual I have plans to install a z axis in the same space.
With all these parts gone there is lots of room inside the case for all my desired modifications.
by noreply@blogger.com (Martin Raynsford) at 05 April 2014 02:38 PM
03 April 2014
by noreply@blogger.com (Martin Raynsford) at 03 April 2014 09:49 PM
02 April 2014
by noreply@blogger.com (Martin Raynsford) at 02 April 2014 09:40 PM
01 April 2014
by noreply@blogger.com (Martin Raynsford) at 01 April 2014 09:29 PM
30 March 2014
I wanted some subtle wording on a piece of foam so I tried this and it worked ok. The piece has now been latexed which allows the words to stand out but when I painted it red the words no longer show on camera. I think a bit of weathering might fix that, but you can at least see them by eye when the light hits it which is kind of the effect I wanted anyway.
by noreply@blogger.com (Martin Raynsford) at 30 March 2014 10:26 PM
29 March 2014
This post is half laser build and half Ikea hack. Like many boys my age (39) and a lot of geeky and rather sad people, I quite like trains and railways and like a small portion of those geeks I quite like model railways too though I would never have a "proper" layout (well not before I'm 60) and could never really find the space or the time to put in the work. Unlike some model engineers I couldn't give a toot! about scale and realism or any of that rubbish. I've a box full of trains and I intend to use them.
My younger siblings and I built a layout in the loft at our house in Grantham when I was about 14, loosely based on the 1930s GWR.. it was quite good fun but a wasps nest in the loft stopped play and then before I knew it I was 16 and was interested in other things like drinking and girls. When my parents moved out we cleared all the buildings, engines, carriages and wagons into a box and left all the track behind (including the precious points). I'd be curious to know if our layout is still in the loft of that town house?
Those boxes stay untouched for another 15 years until I suddenly got the urge to build a Shunting Puzzle… the shunting puzzle remains unmade (points are VERY expensive) but having won an eBay auction for a job lot of track (£10) I thought I should try and make a railways… around the edge of my home office.
THE RULES:
1. It mustn't look like a railway layout
2. It mustn't get in the way of anything
3. Just like making a real railway you have to work with the landscape
I just made those rules up really but they were sort of at the back of my mind. I've called this an Ikea-hack because the railway line is mostly on or attached to my Ikea furniture. I quite like Ikea stuff because… well you know I have eyes and am a human. My office is entirely kitted out with white Ikea furniture specifically a large 4×4 EXPEDIT and some white gloss LACK shelves.
At this point the Tran-Office-Railway only goes around a quarter of my office. I'd like to extend it to go all the way around. Of course the door will be a bit of a challenge. I'd quite like to incorporate a shunting puzzle and maybe hack some intelligence into my system as well. But this is by no means an urgent project and is as much ornamental as it is usable.
The main "hack" is the laser cut track supports on the front of the EXPEDIT they could do with a bit of tweaking but they do the job and I'm pleased with them. The track supports are cut from Birch laser ply wood and are designed so the plastic track parts slot into place, the cable ties are just for tidiness the track will stay in place without them. They were designed to fit both EXPEDIT and BILLY bookcases but of course they don't fit either perfectly. One annoyance was that the Hornby track I used doesn't seem to have been designed to fit Ikea stuff. It would have been nice if one standard length of Hornby fit an EXPEDIT cubby… one bit of straight track is 162mm long (the plastic bit) and each cubby on the EXPEDIT is 335mm so they don't divide nicely meaning I couldn't space my track supports in a visually pleasing way (I don't have OCD).
My LACK shelf on the window wall was lower than the top shelf bottom of the EXPIDIT so there is a small incline for the train to climb. The LACK shelf on the chimney breast is about 40mm higher than the EXPEDIT top shelf so there is a sharp incline. I've simply built up the height with cut corks. I had to blob some HOT-GLUE onto the track to stop it springing up though, obviously the track has little holes so it can be tacked down but I didn't want to break the skin of my LACK shelf.
These aren't the final design and I may make some improvements, perhaps have double track and ditch the shape to hold the track in place and use cable ties instead. In the mean time I have shared my design on Thingiverse and you can download the .svg file here.
Filed under:
Laser Cutting
,
Project
by chickengrylls at 29 March 2014 06:41 PM
In posts to come I'll go in to some details about the breadboard Z80 computer I built recently, but, in the mean time, here's a video that Computerphile made about it
Be sure to check out Computerphiles Youtube channel too!
by Spencer at 29 March 2014 12:10 AM
26 March 2014
I've just completed a project and I wrote the details up on Just Add Sharks. We replaced the brains on one of our
Blacknose
laser cutters with an arduino to create a Etch a Sketch controlled Laser cutter. Time will tell how many fires we get during operation :)
http://www.justaddsharks.co.uk/arduino-based-etch-a-sketch-laser-cutter/
by noreply@blogger.com (Martin Raynsford) at 26 March 2014 02:27 PM
Check the original post about this project on Just Add Sharks
What with International Arduino Day (and Hackerpsaces Day) on Saturday, my part-time laser sales project Just Add Sharks, which is a partnership between me and super-laser-cutter-blogger Martin Raynsford thought we'd Hack one of our Blacknose laser cutters with an Arduino Pro Mini. Martin, who is de facto Chief Engineer at Sharks (my roll is nodding duck) has long exhibited something of an obsession with Etch A Sketch having done an Etch A Sketch mouse controller way back before either of us had ever used a laser.
Martin's big idea for our Just Add Sharks Blacknose A3 laser cutter evaluation and show model was to by pass the Lasercut 5.3 control board and use an Arduino instead to pass X and Y information to the stepper drivers and laser tube power supply. Martin set up a nifty little handheld wooden version of the Etch A Sketch controller, complete with the two knobs as you'd expect which he can use to actually move the laser head around. When the Arduino detects that the operator has moved the knobs it sends a signal to the laser tubes power supply to fire the laser for a short burst. If you keep moving the knobs the laser continues to fire. The power can be set low so only a mark is made on the surface of the work piece or high so it cuts through ply wood!
You can read a lot more about how this project works on the Just Add Sharks "Engineer's Blog". Martin and I will be showing this project at the Nottingham Hackspace Arduino day on Saturday 29th March and at the UK Maker Faire in Newcastle on the 26th and 27th April.
Now if only we could control a Blacknose laser cutter using Buckaroo!
Filed under:
Laser Cutting
Tagged:
Arduino
,
laser cutter
,
laser cutters
by chickengrylls at 26 March 2014 02:24 PM
London, Ontario-based artist Dave Vancook turns previously unremarkable thrift store paintings into geektastic through the careful addition of characters and vehicles from Star Wars. A cheesy bullfighter becomes Boba Fett on an awesome holiday in Spain while Greedo heads over to the Scottish Highlands for his own minibreak. Meanwhile Darth Vader stops to smell the roses and an Imperial Stormtrooper sits down to café au lait outside a French bistro.

Visit Dave Vancook's Facebook page to check out more of his up-cycled paintings. Prints of some of them are available via his Etsy shop.

[via Laughing Squid]
25 March 2014
 The weekend wasn't really that weird but the title appealed to me. I'm talking about the weekend of 15th and 16th March 2014 by the way. On the Saturday me and some of the Nottingham Hackspace stalwarts ventured off to Wollaton Hall in Nottingham. There the Nottinghamshire branch of the British Science Association (mostly from the University of Nottingham and other worth institutions) were conducting their 7th (it might be 6th) annual Science in the Park event. A great event that aims to bring science to the attention of the public in an engaging way… of course Nottingham Hackspace has nothing… AND EVERYTHING to do with Science and the feeling in Hackspace circles has been that supporting this sort of event is a good way of engaging with the public locally. Hackspaces in general can be a little bit to inward looking, but getting involved in this sort of venture is an excellent way to give something back to the community (beyond a huge low cost, well equipped workshop), show ourselves as part of the community AND engage families and let them know about the Hackspace.
We've long come to the conclusion that hands-on activity wins where kids are involved. To that end Matt Little (fellow Nottinghack founder) brought along his "Drip-Drop-Marble-Run" (see video below) moving the Drip-Drop is a bit of a logistical operation as it involves using the terrifying gantry crane (see picture at top) to get it out of Matt's workshop. Luckily an army of student helpers (who frankly struggle under their own direction) was on hand at the Hall to undergraduate-handle the drip-drop to the first floor of the Elizabethan hall. The real beauty of the "Drip-Drop-Marble-Run" is that is requires little to no adult intervention or monitoring. Other than keeping a general eye out for stray marbles, kids can sit happily for minutes at a time either blocking up or freeing up the run. "It's stuck" a sticky fingered child might exclaim… "can you fix it?" is all the adult need say to have engaged said youth in problem solving, physics and engineering… probably.
http://www.youtube.com/watch?v=-sdKfFn0YaA
Our other offering was "THE EMBIGGENER" as named by Hackspace member Mouse. The Embiggener is an inspection microscope purchased from the Anchor army surplus shop. Michelle had been saving interesting insect bits, feathers and other gross stuff to put under the scope. The scope then presents the image on a screen. We found out that if you are at a science event with a bit of scientific looking kit, people immediately assume you are some scientific authority…. quite interesting echoes of the Milgram Experiment (though we didn't encourage anyone to electrocute anyone else)… props and situation are everything when it comes to perception.
In the picture above you can see James from Nottinghack having his eye inspected by a kid FOR SCIENCE!
Sunday involved a trip to Leeds and a visit to the Leeds Hackspace. Sadly I've decided to take a laser cutter away from them. I had put an A4 laser cutter in the space about a year or so ago. Putting a laser cutter in the Nottingham Hackspace has been a huge success and well worth the personal risk and investment. The little A4 laser cutter has been a great draw to new members and a benefit to those who have a project that needs precision cutting or a nice enclosure. It's given me the opportunity to really get to understand a modern prototyping tool and has directly led to me taking my interest in lasers much further (with the start of Just Add Shark Ltd in January partnered with super-blogger Martin Raynsford).
So why did I take the laser out of Leeds Hackspace? My lowest level of expectation when putting the laser into their space would be that it would at least pay for itself. I purchased the laser specifically to put it in Leeds Hackspace, that is to say, I got it with the express purpose of it paying itself off and maybe eventually making me a little pocket money (likely to fund another laser somewhere else). The advantage to me is that I get my money back and still own the laser cutter. It might seem like a bit of a venture to do this and perhaps it is but I hoped it'd be an opportunity for myself AND the Leeds Hackspace.
I don't want to try and guess why Leeds Hackspace doesn't have a lot more members. The Leeds built up area is the 4th largest in the UK after London, Manchester and Birmingham (Nottingham comes 8th) with a population of about 1.8 million, having said that the population density in Leeds is lower. The city has a good swath of technical businesses and universities and the Hackspace is close to the city centre AND parking. On paper they should have at least 100 members. In reality they have 30 members though the number has doubled since they moved into the Hackspace about 2 years ago. I'm unsure of the current financial state of the Leeds Hackspace but I do know they said they don't have enough money to buy a laser cutter right now or even pay a flat rental for the laser (at least they certainly didn't feel it was value for money).
Leeds Hackspace has had some trouble with the process and rules around access to the space for members… or at least with getting their decisions and kit in place to make it work. As I understand it, members only recently got 24 hour unlimited access to the space. Universal access to all members is I think very important to attracting new members. I've seen systems in Hackerspaces that require a member to telephone a key holder or only go on the open night. These baggy processes don't attract a wider pool of new members to a Hackspace. Check any Hackerspace mailing list (not currently the case in Leeds) and if that Hackspace is full of posts like "Open?" "Is anyone in?" "Is Hackspace Open?" "Open times?" you can interpret that the Hackspace in questions might have problems with it's universal access policy.
I'm not suggesting this is easy to manage, landlords often can be funny (or more often we image they will be funny if we ask them permission) locks and locksmiths can be expensive and never underestimate a Hackerspaces ability to Bike Shed the entry system (into having RFID and voices and tweets and logging and and and…). Then there is the question of trust. Who do you trust? I believe that Hackspace should trust every paying member to have 24hour access with keys. Obviously this might work best with a system that at least logs who has been in when but the investment in a quick off the shelf system (or rob London Hackspace's gatekeeper system like Nottingham Hackspace did) you don't have to re-invent the wheel for every problem WORKING and in place QUICK are very very valuable things in the Hackerspace world. They always trump fancy features.
Cost of access is another issue. Your Hackerspace costs say £500 a month to rent… you currently have at least 20 members… so £25 a month! Easy. Well not really. £25 is a commitment and an amount of money that you'll cancel if you aren't really going to the Hackspace as often as you thought you might. Letting people know what the space costs to run and asking them to think about what they can afford is (I think) a much better way of having a large number of members. More members leads to better activity, projects, more money, more varied events and the better chance of having someone interesting to chat to on an idol Monday you fancied popping in to use the laser cutter… pay what you like is just harder to predict and account for and probably doesn't feel safe and logical.
One of the problems they had with the laser cutter at Leeds Hackspace specifically was that they were unable to ventilate it. This has either something to do with the landlord or something to do with not having been able to find a good method of ventilating AND asking the landlord (it's vague). As access was not universal and the Open Night was still the focus, the laser was only really getting used on open night. It produces a lot of smoke and needs ventilation. If you only use an open window you are going to have a problem. It'll be cold and the smoke will mostly blow back into the room. No wonder it didn't get any use really. I took it away because my laser cutter in Nottingham needed a swap out. It's possibly once I've reconditioned the Nottinghack laser that it might get sold on or put in my own office at home.
I wish Leeds Hackspace the best of luck. Several have suggested it sometimes takes the removal of something to get people to miss it. I absolutely think every Hackspace no matter how small should concentrate on the following 3 tools before they worry about CNCs and mills and other silly things or filling the space with broken or poor quality tools.
1. Laser Cutter as big as you can afford (cheap Chinese ones are okay) non-open source ones are OK you can always hack-it-later (HIL)
2. Plug and play 3D printer (not necessarily a RepRap) something anyone can get on and use
3. Electronics Bench (good soldering iron, good multi-meter, good set of tools, bench power supply and scope)
Leeds Hackspace needs members, do-ers and people who'll organise in the face of bike shedding and flakiness (that skill is needed by anyone who wants to be a big noise in any Hackerspace). Go visit them on their open night, it's on Tuesday (corrected)… I was interested to see the "Nottinghack was here 7/7/12″ on the white board from our visit to their opening parts nearly two years ago. They said they'd kept it on purpose… part of their history. Nice touch.
Filed under:
Event
,
Hackspace visit
,
Laser Cutting
,
Nottinghack History
Tagged:
Hackerspaces
,
laser cutter
,
laser cutters
,
Leeds
,
Leeds Hackspace
,
Nottingham
,
UK Hackspace Foundation
by chickengrylls at 25 March 2014 01:03 PM
Lots of the kits sold here require a programming cable to program the ATMEGA328 micrcontroller.
These kits use a bare microcontroller and do not incorporate a USB-Serial IC on them (unlike the actual Arduino UNO and others).
This reduces the cost of the circuit as, once the project is complete, you do not need to reprogram the IC and having the USB-serial IC is a waste.
Here are some reporgramming cables which work with our kits.
They are available for £9 (inlcuding P&P within the UK)
by matt@re-innovation.co.uk (Matthew Little) at 25 March 2014 10:49 AM
24 March 2014
by noreply@blogger.com (Martin Raynsford) at 24 March 2014 04:06 PM
[Image is a poster explaining briefly the origin and meaning of green, yellow, and red interaction signal badges, referred to above as Color Communication Badges.]

CAN WE DO THESE AT CONS

SECONDED.

if youre not autistic or suffer from an actual disorder, dont use these. its not cute.

er… you know a lot of autistic people go to conventions, right? And people with social anxiety disorders and panic disorders? Shit if I could get away with using this at work I would. 

Hello there, justsjwthings.

I would like to introduce myself.  I refer to myself as Sam Thomas, though my legal name and how a lot of people know me is Matthew.  I am officially diagnosed autistic.

Over one week in June 2013 (last summer), I was in Washington, DC for an autism conference called the Autism Campus Inclusion (ACI) summer leadership program run by the Autistic Self-Advocacy Network for autistic college students.

If you have any question as to the truth of this, I would like to direct your attention to this YouTube video that ASAN produced promoting the above-mentioned conference.  I appear as the first person in the video and you can find more images of my face on my blog.

At this conference, not only did we use these communication badges pictured above, but we actually had the opportunity to meet Jim Sinclair, the inventor of these badges.

During the part of the conference in which Jim Sinclair gave us a history of Autism Network International (ANI)—which they were a co-founder of—they talked to us about the establishment of this particular piece of assistive technology.  Basically, it was a simple idea that seemed to fit a need and quickly became very popular among many autistic spaces for it's practicality and ease of use.

The conference it originated from is called Autreat and is held annually by ANI. This is an autism conference that accepts Autistics and Cousins (ACs)—that is, anyone diagnosed or otherwise self-identifying with any disorder autistic or similar that may share a number of autistic traits.

There was a need.  The need was met.  This is how we can safely assume most technology either emerges or becomes popular.

We also talked about something called Universal Design and the Curb-Cutter Effect.  The Curb-Cutter Effect is when something to fit a specific need is found to create convenience in a broader area than intended.  Curb cuts allowing for wheelchair accessibility to sidewalks proved to also be convenient to anyone who may have trouble with steps or even simply a mother with a baby stroller or maybe a child with a wagon.  This is a desirable outcome with disability rights advocacy as creating convenience for non-disabled people often makes the assistive technology easier to advocate for.

In this sense, these colored communication badges could serve that Curb-Cutter effect.  Not only would this be perfectly acceptable for non-disabled people to use for convenience, but would also help to increase their effectiveness and convenience for those of us who need them.  Here are a few examples:

Increased popularity makes the colored communication badges more easily recognizable to the general public, making them as effective outside the above-mentioned autism conferences as inside.
Increase in demand would create increase in supply and availability, likely making these available to pretty much anyone and even being included with, say, the name tags you are required to wear at most cons.
In addition to these helping people recognize the communication state of the wearer, the wearer will be able to recognize whom they can feel more comfortable to approach.
Increased popularity would make these badges more acceptable for public use and less alienating to those who would wear them frequently.

This is not something that we are completely incapable of surviving without; this is something that was convenient and made our lives a lot easier.  If that can be easily shared with the general public, then what purpose does it serve not to share it?

Thank you for reading.

I think I've left some good information in this response and it may be a good read for some of our followers.  Just a bit of history and a couple concepts in disability advocacy.

~Sam
23 March 2014
Here is a post about what you can do in an afternoon or two with a whole load of electronics stuff lying around.
I have had an red-green-blue (RGB) board from Big Clive or Phenoptix lying around for a while. I had developed an RGB LED controller for it, so I also had one of those attached to it.
It is designed to fit in to those 150W halogen light holders and I had managed to find one of those as well.
I wanted to do something fun with it so decided to make a wirelessly controlled LED lamp which can be used to change the room ambiance, or to signify some form of data (anything from room temperature to number of emails to read).
by matt@re-innovation.co.uk (Matthew Little) at 23 March 2014 07:15 PM
I have mentioned the Minimus AVR before on this blog. It is a very low-cost ATMEL micrcontroller board with a USB bootloader.
This post describes using the device as a HID (Human Interface Device) such as a keyboard or mouse. A challenge was set by a friend to take serial commands and, depending upon the command, output different strings to a computer via USB as if it was a keyboard plugged in.
This post gives some detail about issues and basic code for you to use.
by matt@re-innovation.co.uk (Matthew Little) at 23 March 2014 05:01 PM
The XY frame collided with the vent at the back of the blue laser cutter. The vent is possibly just a little bit high for it so I looked at how to bring it down again. You can tell that someone else had a similar idea because the metal frame at the back of the laser was bent, presumably by someone leaning on the vent internally. I gave it a bit of straighten and put 2 washers in between the vent and the back wall. This dropped the vent down by almost a centimetre and gives it a generous amount of clearance.
I have also been informed by the previous owner that when the laser was first turned on the XY frame tried to zero itself but it couldn't, instead it scraped itself down the side wall of the laser leaving a mark there. They had to unscrew the entire frame and shift it right slightly to stop the frame colliding with the wall.
by noreply@blogger.com (Martin Raynsford) at 23 March 2014 04:17 PM
I've tweaked the useless machine design for the final time, it's undergone some rigorous testing by myself and now I'm running some local workshops to make sure the instructions are understood correctly. If you want to get your hands on one of these new machines then come along to a workshop and join in. I'm doing hackspace discounts of £15 a kit and I'll be on hand if the instructions leave you baffled.
by noreply@blogger.com (Martin Raynsford) at 23 March 2014 12:31 AM
22 March 2014
I gave a little talk at
Starbase Leicester last
night about how modern manufacturing had reached the hobbyist market and that local hackspaces were now filled with CNC mills, laser cutters and 3D printers amongst other useful things. I tried to tie this all in to the cosplay that they were doing and I hope it filled them with ideas about what is actually possible with access to the right tools.
I showed some of my laser cut pepakura but I also drew and laser cut a paper version of a companion cube. The plan was that people would help me assemble it and the space would get to keep it. In the best laid plans of these things that never really happened so I came home with a box full of paper parts. While watching some TV I thought I would assemble it. After a few hours of show and only having one corner made I realised that I just don't have time for this kind of thing anymore. If I'm invested in a project I will make the time but something disposable like this object would be better made using different techniques (3D print for example)
Anyway, this is the post that could have happened. I have a nice 3D model and laser cuttable papercraft files all ready to go if you want to laser cut you own. If anyone does find the time then please send me an image of the completed item (I did enough testing on it to be 100% positive it will assemble correctly)(
svg here
)(
stl here
)
by noreply@blogger.com (Martin Raynsford) at 22 March 2014 03:51 PM
18 March 2014
I made a short video featuring the rope making machine.

by Mouse at 18 March 2014 06:38 PM
Most three strand rope is Z-laid, but when three ropes are combined into a cable, the direction is reversed and the cable is S-laid.
When making rope with the rope-making machine, the lay of the rope is determined by the direction of rotation of the hooks, so I added a bi-directional switch which can be used to reverse the rotation of the hooks. I then set about testing the machine by making some thicker rope.
I started by making three seven-meter lengths of thin rope – each constructed from six strands of knitting machine yarn from Nottinghack supplies. I fed these thin ropes and a similar length of string through the rope maker hooks, doubling them up and consequently halving the length of the thinker rope to a little under three meters.
The result was pretty good – it has a diameter of about 10 mm and a stretchy quality. The strands seem somewhat prone to un-wrapping themselves. I feel that this is partly because the motor was having a little trouble providing enough torque, and partly because the yarn and string don't really have the right properties for a very stiff rope.
The second attempt was more ambitious. I felt that using string to bulk out the first rope was a bit of a cheat and that the result wasn't as long as I'd like, so I set about making twelve thin ropes to combine into a full-length ropemaker-only product. This took a LONG time – about 5 hours! I then replaced the motor and 1:50 gearbox with a 1:200 ratio version. For thin rope speed is important and torque is not – the faster gearbox can easily provide the required torque. However, for thicker rope fewer twists are needed, but more torque is required. A future modification of the machine will have to be a better way to swap out the motor/gearbox!
The results were good, although now I need to learn a good whipping technique to properly finish the ends.
What I've learned is that the time required to make a good length of thick rope is prohibitive. Doubtless there is much room for optimisation of my process, but I don't expect I could do better than halving the required with this design of machine. This meads me to a new appreciation of pre-mechanised rope manufacture – and I started with pre-fabricated yarn… the process from raw fibres must take significantly longer.
by Mouse at 18 March 2014 01:59 PM
16 March 2014
The Price, similar models are priced about £500 on ebay.
The layout, it's a sturdy metal box all wired up nicely
Complexity, it's a very simple machine which should make it easy to spot any issues.
Manual Power, manual power gives you a lot of control but software control is easy and allows you to complete entire jobs in a single procedure.
10 Turn Dial, the manual power dial rotates 10 turns with no indication which turn you are actually on.
The lightbulb, in a time where LED's cost pennies this should be using them.
Poor exhaust fan, these little fans just don't shift enough air out of the machine.
Exhaust fan location, the fan blocks access to the laser tube especially if you seal the gaps around the fan with gaffa tape to make the extraction work.
No Red Dot, with a cutting area this small maximising the material use is pretty important.
No Locks, you can open the panels at any point during the lasers operation, "my advice? Don't!"
No cable guides, the stepper motor wires rub against the rails as it moves.
Poor sticker translations, It's a short job to get a native speaker to correct the English.
A5 Cutting area, I'm still unsure if I should include this, it is small but that's the price trade off.
No Z Axis, The final lense of the assembly focuses the laser beam into an hourglass shape, the material needs to be at the centre to cut effectively, no Z axis means that the work will always be outside of this focal point.
The Weird Clamp thing, the centre of the work area is a large hole, work is supposed to be clamped into place with sprung loaded thing which jams as it goes in and out. Fragile items and thin materials (which should be bread and butter work for these lasers) just can't be placed inside it.
No Interlocks, the case can be opened while operating and there is no water flow detection on the laser tube, this could result in damage to the tube or even worse yourself.
Frame Collision, the XY frame collides with the exhaust port at the back of the machine, it will do this every time the laser tries to return to the zero position.
Touching briefly on the Moshidraw control software. When user forums offer advice such as "Don't move objects around in Moshidraw if you want them to remain the same size" it really puts the final nail in the coffin for these machines.
by noreply@blogger.com (Martin Raynsford) at 16 March 2014 11:47 PM
A while ago I purchased a lovely pair of Clarks shoes in a very pale blue. I used them a lot whilst working one summer and they were great, until, one day, I got caught in a downpour. The pourous leather soaked the water up like a sponge and it took the dye with it. I don't have any pictures, unfortunately, but the leather had become discoloured and a slightly less charming grey. 
I hate throwing things away and I knew that no charity shop would accept my shoes in their current state, so I decided I would do something about it – there was nothing wrong with them that wasn't cosmetic. Like a number of my "projects", this was put to one side and left for a while. I was having a clear-out one afternoon and found the shoes. Searching the internet identified a range of leather dyes and a couple of hours later I had decided I was going to purchase a bottle of Fiebings dye and attempt to turn the leather into a mid-blue. 
I had slightly underestimated the vividness of the dye and the leather turned out very blue! Being of the (initially) shy sort, I didn't feel brave enough to wear these outright, but most importantly, the dye didn't conceal the worst of the watermarks as I'd hoped – it made them worse in some places!
I dug some old denim scraps out of a box at Nottinghack – I had previously donated a small amount of old denim in the form of a couple of pairs of jeans. I have no idea where, or from whom, this idea arose (something on the internet a long  time ago I suspect) but I decided the way to go was to cover the more stained sections with denim. The shoes weren't ever going to be water-resistant, so it didn't matter too much which glue I used, so I grabbed a bottle of PVA and some small scissors from the workshop. 
I applied a good layer of PVA to each section and cut a piece of denim larger than what I needed. I had played about with cutting templates from paper, but soon discovered it was easier to shape the denim once it was attached to the shoe. 
It was just a case of applying scraps of denim in turn and carefully cutting around any "features" – the design of the shoe included some attractive stitches.
I also tried to carefully align the weave of the fabric so that the grain was placed as attractively (and consistently) as possible. It was also tricky to find the right colour of denim – one of the pairs of trousers had been stonewashed and keeping the colour consistent was tricky. I also tried to dab glue along the edges of the fabric to reduce any fraying that might occur with use.
And that's it! An asymmetric design, accomplished in one evening. I can also report that the shoes wear no differently to before and are as comfortable as ever!
by mellchie at 16 March 2014 10:50 PM
For a while now my trusty laptop (HP Pavilion DV7) had occasionally been reluctant to start up – the fan would fire up, the optical drive would whir and beep and the LEDs on the NUM lock and CAPS lock would flash. Then flash again. And again. The screen wouldn't light up; no welcoming Windows logo. My temporary fix was to power off, remove the power cable/battery and hold the power button down for between 15-30 seconds. Replacing the battery I could usually be sure of a successful start-up.
This went on for about a year – until around 2 weeks ago. My dodgy fix no longer worked.
A brief search on the interwebs took me to the HP website, which contained a useful table detailing the "blank screen error codes". This indicated that a fault lay with the CPU. Now, I'm not really that clued up on laptop hardware (despite having previously replaced the keyboard after a spilt-coffee incident) and after identifying where the CPU actually was, the idea of completely  dissembling the laptop, possibly irreparably, wasn't particularly attractive. Neither was a trip to the laptop repair shop, who may not have been able to do anything – one piece of information I hadn't been able to ascertain was whether the CPU was soldered in place or held in by a clamp.
On the off-chance the CPU WAS held in by a clamp I performed a quick search and identified a new replacement on eBay for around £15. So my quandary:
Attempt to dissemble the laptop, identify how the CPU was held in and attempt to replace it (£15 vs possibly broken laptop);
take the entire laptop to a local repair shop and hope they can fix it (probably ££ – £££)
put onto eBay for spares/repairs and buy a new laptop (£600-700 for something suitably new and shiny)
Now, the last option isn't really an option as I don't have the disposable income. To be honest, I couldn't really afford to take it to a repair shop, either. Another internet search identified lots and lots of laptop disassembly tutorials and videos. It didn't look too hard and you don't need any tools more special than a mini screwdriver. So all I needed was a free day.
Two weeks after my laptop "died" I had a free day. So, feeling not a little nervous, I placed it on my desk. One last push of the power button; no blue windows screen. This was it. Out came the battery, the hard drive and wireless card; surgery began!
Out came the hard drive…
The keyboard and display were next…
The palm rest itself was held on by 14 screws…
My prize – the motherboard!
The CPU itself was easy to remove
Just over an hour and a significant number of tiny screws later, I was sat looking at the motherboard and an (organised) heap of parts. Thankfully, the CPU was held on with a clip; I knew that if I reassembled the laptop and it still didn't work I could try replacing it.
Three and a half years of fluff…
Whilst I had the motherboard out, I decided it might be a good idea to check exactly how clogged-up the fan was, as I could see a strand of hair had wrapped itself around the hub and wasn't coming off without a fight. A good idea, too – the dust had built up and was 5-6mm thick on the heat sinks!
Having brushed the fan and heat sinks clean, I resat the CPU, bemoaned the fact I had no thermal grease to refresh the well-and-truly dried-out original and reassembled the laptop. On a whim, I pressed the power button. The optical drive whirred and beeped, the LED's flashed… and the screen lit up! The windows logo appeared! It lived!
Small enough to be missed…
A stray thought struck me… the fan was awfully quiet… In fact, it wasn't turning at all. I thought back. Surely removing the fluff can't have made THAT much of a difference… Oh. I'd forgotten to plug the fan back onto the motherboard. That particular plug was underneath  the fan, meaning I'd have to completely dissemble the laptop again.
Oh well. At least I'd get some practise!
(PS – Firstly, apologies for the poor quality pics. They were mostly taken in a it of a hurry as I was reassembling the second time. I also apologise for my poor organisation of screws, which should have been taped back onto the piece of paper with a description of where each one lived! I didn't lose any, or have any left over, but two mysterious C clips dropped out as I put the palm rest back on!)
by mellchie at 16 March 2014 10:16 PM
13 March 2014
by noreply@blogger.com (Martin Raynsford) at 13 March 2014 11:36 PM
I've been aware of Kitronik based in Nottingham at the wonderful Shipstones brewery buildings for years but had never been to visit them. Rob, who looks after their web site is quite active at the Nottingham Hackspace and was a huge help to me recently when me and Martin Raynsford set up our laser cutter company Just Add Sharks! 
Kitronik supply mostly schools with inspirational educational electronics kits and sheet materials like like plywood and perspex too. They have a lot of gear for electronics hobbyists and are especially good suppliers for wearable electronics stuff like conductive thread. They also do all the fulfillment for Bare Conductive, a London based conductive paint company. They've ventured in the world of embedded electronics with their recent Kickstarter project the LAIKA kit for making Raspberry Pi's into robotics prototyping platforms. They asked me to do some t-shirts for them too which you can see on my t-shirt gallery page.
You might not know this about me, but for my day job I'm a process improvement specialist. I specialise in Lean Process engineering, though barley get to use my GREEN BELT in anger. I was very impressed with Kitronik the place is immaculate…. I mean it not really one item of stock out of place, nothing stored on the floor, clean, tidy, ordered. The packing stations were excellently well organised and all the staff seems really happy with the setup. They get full marks from me on organisation. Other similar companies I've visited SHOULD try and operate like this… it doesn't cost anything and will very likely save A LOT of money in the long run. Though much of the packing and shipping is done in house Rob told me a number of kits are packed at workers homes as (I assume) piece work and then sent in to be shipped out.
They have some nice toys there including a pick-n-place machine, a decent sized laser cutter and lots of kit for inventing new products. They were working on some new ideas from someone they are working with who they met through a Mini Maker Faire. Co-Founder Kevin Spurr spoke about how important he felt it was to support the Mini Maker Faires and how valuable they can be to meet hobbyists and inventors as well as get to show products to customers. Kitronik very generously supported my own Mini Maker Faire at Derby last year.
You should check out their website and shop at http://www.kitronik.co.uk/
Filed under:
Hackspace visit
Tagged:
Derby Mini Maker Faire
,
Hackspace visit
,
Kitronik
,
Nottingham
,
Raspberry Pi
by chickengrylls at 13 March 2014 05:59 PM
11 March 2014
In February 2014 the Nottingham Hackpsace membership were offered the chance to complete a members survey. It was shared using the FREE Survey Monkey service. Of approximately 125 members at the start of February there were responses from 61 of those members. Some questions have no been shared below as they contain personal information or were general feedback on the survey.
There will be a presentation and discussion of the survey in the Blue Room at Nottingham Hackspace on (CHANGED) WEDNESDAY 26th March 2014. The survey was written and administered by me, Dominic Morrow  to act as an aid for future strategy making and direction for the Nottingham Hackspace. Specifically to inform choices and strategy for the next 18 months at Hackspace.
Thank you very much to everyone who took part. The feedback was very valuable. I've learned a lot about surveying from running this one and hope that I can run another survey in the summer. Kai Pays won the goody bag.
Q1. What is your most frequently used mode of travel to Nottingham Hackspace from your home or workplace?
Filed under:
Nottingham Hackspace
Tagged:
Hackerspace
,
Hackerspaces
,
Hackspace Foundation
,
members survey
,
Nottingham
by chickengrylls at 11 March 2014 12:19 AM
10 March 2014
The final two stages of the rope maker motorisation project were completed yesterday. The axles were fixed to the gears by drilling a transverse hole through the axles and putting a 2mm diameter machine screw through them. A slot was cut into each of the gears and the screw wedged in. In this way the axles now spin with the gears (making it possible to transmit the rotation to the hooks attached to the ends of the axle.
The last piece was the attaching of the motor to the centre axle and mounting it in the frame. The mating should probably be replaced by something better, but it works for now.
by Mouse at 10 March 2014 02:20 PM
What's the difference between Nottingham Hackspace and Nottinghack? Well the way I've always thought of it is that Nottingham Hackspace is the place (depending on how you recon it we've had 2 and half hackspaces so far) and Nottinghack is the people! Nottinghack Hackspace could cease to exist but the group of people (dare I say friends?) would continue somewhere, right?
The dates are vague but about four years ago the group that became Nottingham Hackspace was started and you might of wondered how it got started? I created a meetup.com group called Nottinghack for Hackers and Makers in Nottingham. The first meet-up was at the Olde Salutation pub on Wednesday 10th of March 2010 (I managed to pull the date from twitter records for @nottinghack also I rememebr it because the weekend after was the 2nd UK Maker Faire and I went to it with JP who I'd only just met).
The four who went to that first open meet-up are in the picture above which was taken on 28th May 2011 in the kitchen at Nottingham Hackspace 2.0, during the open day (just a few days after we'd moved into the Hackspace's current venue at Roden House). If you look carefully we're yet to fill it up with stuff… From right to left in the picture are me (Dominic Morrow), Matt Little, David Hayward and JP Hastings. Matt Lloyd who was involved very early in Nottinghack didn't make that very first meeting so isn't in this picture (sorry Matt). JP is ridding a bike to power the blender that looks like it's attached to David's crotch. It's a pedal powered smoothy maker made by Matt Little.
The 2nd May 2014 will mark 3 years at Roden House and (hopefully IMO) the start of our last year at Hackspace 2.0 before pushing onto the bright sunlit uplands of Hackspace 3.0. But that's a different story that's yet to be written. When we had that pint in that noisy pub 4 years ago I honestly never really imagined that we'd be buying an A0 size laser cutter to put in our 4000sq ft workshop. My life has changed completely since then and a lot of that is because of the Hackspace. To be honest, I still love it.
By the way if you'd like a bit of a laugh at my expense look at some of the rubbish I wrote in 2010 about Nottinghack (my writing style probably hasn't improved much and I've left all the errors in sorry some of the pictures have fallen off). The fatured image (if you can see it which if you are reading on Nottinghack Planet you can't) is a picture taken of a hard hat I decorated as a meeting marker. The picture was taken in the pub actually on the 1st meetup night by David Hayward.
Happy Birthday Nottinghack!
Filed under:
Nottinghack History
Tagged:
Hackerspace
,
Hackerspaces
,
Hackspace Foundation
,
History
,
meetup.com
,
Nottinghack
,
Nottingham
,
UK Hackspace Foundation
by chickengrylls at 10 March 2014 10:00 AM
09 March 2014
Hacking Ugandan Toilets http://nicnaknoe.wordpress.com/2014/03/09/hacking-for-ugandan-toilets/
by fowkc at 09 March 2014 11:35 PM
There has been a bit of a hoo-har today (Sunday 9th March) about an announcement at South-by-South-West (SXSW – a music, film and comedy festival in Austin, Texas… that as I understand it is the sort of festival working hard and doing a good job of being taken seriously by bias US media, bias as in it is not in New York or California) of a London based "flagship" Maker Faire in the summer of 2015 the announcement was carried by several media outlets but most notably "The Guardian".
The poorly worded article which caused such a stir among the UK maker scene implies that the event will run for four weeks. Chats and emails with Sabastopol, CA based Make Media employees say this is "unlikely" no "flagship" Faire has ever been longer than a weekend, even in the USA. They find it hard to understand why UK makers are upset by the news, saying that the New York and Bay Area events have budgets in the $100k+ region and are truly huge events and the London event will be in a different league to anything staged outside of the USA before. Of course just like SXSW there is a feeling of "London" bias for all reporting and money oriented stuff in the UK…
There has been confusion too about when the event will run. Some have read "next summer" as meaning summer 2014. The event is planned for the summer of 2015 and will be held at Here East at the Olympic Park in east London. Also if I was one of the organisers of the UK Maker Faire at Newcastle, which has been running annually (with the exception of 2012) since 2009 this year being no exception, I'd be a little bit annoyed…
Whilst I think the organisers don't at all understand the current UK Maker movement (in and out of London) or the rag-tag band of disparate UK Mini Maker Faire producers I do think they plan to bring a tremendous event to London. I'll be there in some capacity (try and stop me). My personal hope is that this might be a big enough event that Make can bring Adam Savage of the Mythbusters (and every Bay Area Maker Faire) to the UK to speak about making as well as attracting the very best UK, European and international makers to the UK.
So I say lets get behind this super event for Europe and the UK and understand the excitement the staff at Make feel about it. Even if this press release was poorly written, researched and put out at just the wrong time. On reflection I feel the staff at Make might have held off this announcement until April's UK Maker Faire in Newcastle, though perhaps they couldn't have said it and looked those organisers in the eye? I wish Here East the best of luck for the event but would very much encourage them to look beyond London and spend more than a little time getting to know the maker community, after all, if it's going to be a truly huge event, you'll need them.
Image by Make Media.
Filed under:
Maker Faire
Tagged:
London
,
Maker Faire
,
Maker Faire London 2015
by chickengrylls at 09 March 2014 10:36 PM
by noreply@blogger.com (Martin Raynsford) at 09 March 2014 04:48 PM
08 March 2014
You might have heard of a little web service called Criticker. It's a really great resource for finding film recommendations and I've used it extensively myself.
Some time ago they came up with an API and I started working on an Android app to make use of it. Before I finished mine, this excellent one by Mobulasoft hit the store. I pretty much gave up with it after that.
Fast forward a few years and I was looking for a little project to work on.
Edit: I'd contacted Criticker about the issue and they have issued a fix, taken the API down for review and requested I remove the post. I've removed the exact steps I took to reproduce the issue and following is a condensed description of the problem:
The API has a method for retrieving the list of users who signed up through the application.
It also has a method for retrieving the password of any user who signed up via the application.
An application is identified by a key which Criticker issue to the developer, but it was trivial for a malicious 3rd party to discover it. Using that key, the above two calls could be made to retrieve the passwords for all users who had signed up through the given app.
by Teario at 08 March 2014 10:52 AM
More work on the rope maker motorisation project. This time I created the three axles for the hook parts. The hooks screw onto the ends of the axles, which then pass through the frame and into the gear box.
Still to do (or redo): the centre axle, gear attachment to axles (knurled + epoxy?), motor interface to centre axle, motor speed control, the "other end" of the rope (spinny thing with a weight on a pulley).
The motor is DC 12 volt, alread has a 43:1 ratio gear box on it, and only pulls a small current so I'll just dig through the box of wall-warts at Nottinghack until I find a suitable one. Speed control can just be done with a variable resistor in series with the motor. The interesting part is finding a way to attach to the motor to the centre cog axle. More soon.
by Mouse at 08 March 2014 06:43 AM
Ben Gray of Phenoptix.com has been a member of Nottingham Hackpsace since he saw a banner add on instructables.com in late 2010. As a peddler of all things flashing, glowing and beeping he's made several very generous donations of LEDs and Electro-Luminescence to the Hackspace's vast stash of technical goodies. He's been providing the popular Arduino Workshops with boards for the last year and even has some of his kits for sale in the Hackspace vending machine. 
Popping round to visit Phenoptix' towers in Beeston just west of Nottingham is always a bit of treat, though it's easy to leave with a much lighter wallet as Ben always seems to have something new and exciting for sale. Ben and I worked together on the European Hackspace Passport, a Jake Howe design that Ben stocks on his online shop. About this time last year I was on BBC Click and seen wearing another of Jake Howe's designs, the Rule Zero DO NOT BE ON FIRE t-shirt. People found me and emailed me after that trying to get hold of one for themselves. I've also sold a few at the Mini Maker Faires. Ben and I decided it might be a nice idea to sell them on Phenoptix.com too. So I popped around to do a glamorous modelling shoot with Ben. In the last few months he's embraced the grizzly-Adams look which I think makes the poses that much better.
 Ben is always keeping an eye on blogs, forums, Kickstarters and You Tube and always seems to have the latest toys in to evaluate. When I went round he was messing about with a plotter clock he'd downloaded from thingiverse and knocked together with parts from his vast stock of hackables. He said it was a welcome diversion from the sub £30 arduino based, educational robot arm he'd been working on the last two days and was hoping to publish soon "probably open source" he said. We got onto the topic of Open Source and Kickstarter and reflected on the many projects that claimed they would be open source but bulked at the last minute "If you can't find the file in 10 minutes, it's not really open source is it." was Ben's claim and I can see his point. 
There are lots of exciting products on phenoptix.com (not least my t-shirt and European Hackspace Passport) and from the look of the developments in progress on Ben's desk some good stuff to come too. Check out their online shop. You can find out about other t-shirts I make by checking out my t-shirts page.
Filed under:
Hackspace visit
by chickengrylls at 08 March 2014 01:18 AM
The Z axis control on the Lasercut system has some features I don't really like.
It's slow when you're trying to go large distances.
You have to be right at the top menu before you can enter Z mode, but the top menu and the one below it are both identical so you end up pressing escape before hand just to make sure.
Once in Z mode pressing escape does not get you out of Z mode, only pressing Z again does.
Holding the Up/Down button for 3 seconds switches to a faster speed but this typically occurs once you reach the exact spot you wanted to be in and the Z zooms out of the desired position.
You can't adjust the Z axis while the program is paused, meaning you have to stop, adjust and restart whereby you double cut a series of lines.
If you don't datum the Z axis, which it doesn't do automatically, the Z doesn't even run continuously. Check the end of the video to see what I mean.
Magnets hold the control panel onto the side of the machine for easy access. It's a very simple circuit, the arduino plugs in using the existing connectors so no modifications were required. The stepper motor driver was left powered by the existing system and only the control signals were replaced, the arduino also taps into the Z axis limit switch connector.
The stepper motor pulses are produced by the arduino hardware.
PWM normally
varies the on duration of a square wave signal but a the stepper motor driver is only looking for edge pulses that won't help. For this program I set the duty cycle to 50% and vary the repeat period of the signal, this controls the number of steps per minute. Source code for the project can be found here (
source
)
by noreply@blogger.com (Martin Raynsford) at 08 March 2014 12:23 AM
07 March 2014
Tree requested these plastic templates for some leather belts he's making. He cuts round the template to make the end shape on leather belts. The white one has funny rounded ends where Lasercut 5.3 failed to read in the dxf correctly. I thought it made an interesting shape and it was already cut so he might as well have them both.
by noreply@blogger.com (Martin Raynsford) at 07 March 2014 04:42 PM
On Wednesday @ChickenGrylls and I put up a nice new counter top in the kitchen, and I finally attached the mirror to the wall in the bathroom. Fairly minor improvements which help make the space feel a bit more homely.
Don't forget, this Saturday (2014-03-08) the power will be off to upgrade our electrical systems. Volunteers are very welcome to come along to help with the upgrades. Please post on the mailing list if you'd like to help. I'm quite excited about getting proper three-phase hookup in the metal shop. Time to start reading up on the Bridgeport.